How to verify emails from a CSV?
SalesBlink's email verification tool allows you to verify the emails in order to reduce the hard bounce while cold emailing
Here is how you can verify emails by uploading a CSV:

1. Go to the SalesBlink App. Click on "Email Verification tool"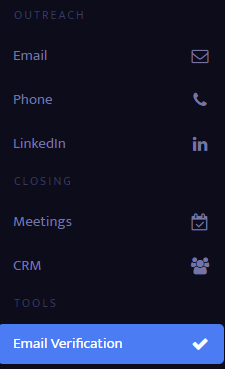 2. Go to the section titled "Bulk Verify"





3. Input the list name

4. Upload the CSV file containing the emails to be verified

(SalesBlink allows you to verify 1000 emails at once)





If you don't know the format of the CSV file to be uploaded, you can download it here and enter the required information





5. Click on "Verify Emails"

It will take some time to verify all the emails.





6. After it is completed, you can download the file



After the verification is complete, you can check the delivery status of emails in the CSV file