How Can I Change My Availability On Meeting Link?
Do you want to change your availability on your meeting link? It's easy! 🙌
SalesBlink gives you several options to change your availability on the calendar. 🎉
This is crucial since it allows you to schedule meetings according to your convenience and ensures that you can take the conversation ahead with the prospect. Don't want to give your 100%?
You just have to mention when you are available, and the scheduler will take care of the rest. Just focus on making the meeting a big hit!
To help you out, the following are the four ways you can update your availability on the Meeting Link. 👇
Change Working Hours
The calendar gives people the option to book meetings based on their working hours. It makes it easier for you as your meetings will be during working hours so that your personal life doesn't get affected and the work-life balance is well-maintained.
'All work and no play makes Jack a dull boy - Remember that saying?
Here is how you can update your working hours 👇
1️⃣ Go to the calendar settings.
2️⃣ Scroll down to the section titled "Working hours".
3️⃣ Change the working hours according to your convenience and availability.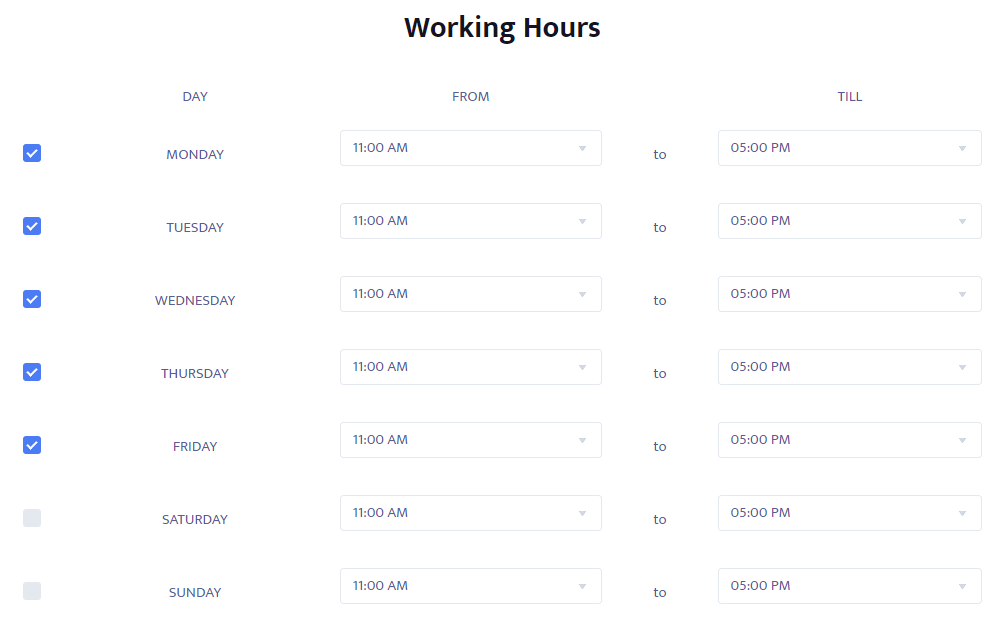 4️⃣ Click "Save".


Change Buffer Time
Buffer time is the time between two consecutive meetings. You might need to take a break after one meeting as a bit of a breather is always welcome, right?
Here is how you can update the buffer time 👇
1️⃣ Go to the calendar settings.
2️⃣ Enter the buffer time (in minutes).

3️⃣ Click "Save".
Let me give you an example to help you out,
Suppose you choose this parameter as 6 hours. Then, at 3 pm, if somebody is trying to fix a meeting, they will not get any option to schedule the meeting before 9 pm on the same day. This way, you can plan the gap between your meetings to stay well-prepared and give your 100% to each meeting with the potential customers.
Here is how you can update it 👇
1️⃣ Go to the calendar settings.
2️⃣ Enter "prevent meetings less than hours way".
3️⃣ Click "Save".

Change The Advance Meeting Days
If you set this parameter as '10 days', people won't be able to schedule meetings with you for more than 10 days in advance.
Here is how you can update it 👇
1️⃣ Go to the calendar settings.
2️⃣ Enter "Advanced meetings can be booked on your calendar for days".

3️⃣ Click "Save".
Adding Break-Time In Working Hours
You can easily add break-time in your working hours so that you get a breather. The prospect will also know that it is not the right time to schedule a meeting with you.
Here's how to go about it,
1. Go to 'Meetings' from the side menu.
2. Click on 'Settings' in the top right corner of the page.
3. In the Meeting Calendar settings, scroll down to the 'Working Hours' section.
4. Find '+ Add time' next to your working hours of each day of the week and click on.
5. Enter the break time and click on the 'Save' button below.
And that's it! You have successfully added your break time to your working hours. Get ready to be more organized now!
🔆At SalesBlink, we always think about you, and that is why we provide the option of tweaking the working hours, break time and buffer time to make it convenient for you.