How to add new email templates?
SalesBlink allows you to add and edit templates that you can use in your campaign.

Here is how you can edit your email template::

1. Go to the SalesBlink Dashboard

2. Under "Outreach", click on "Email"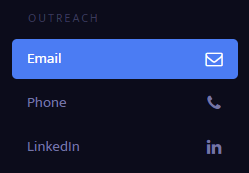 3. Click on the drop down arrow next to "Templates". Then, click on "Create New"





4. Enter the email template details and click "Save Template"




A new email template will be now be added to your list of templates.