How to set Custom Domain for Email Tracking?
SalesBlink lets you set a custom domain for tracking clicks.

Why you should set a custom domain?

Once you set a custom domain, the receiver's email server can not backtrack that the email came though SalesBlink (which is a cold emailing software).
This provides better deliverability.

Here's how you can set a custom domain:

1. Go to the SalesBlink Dashboard

2. Under "Outreach", click on "Email"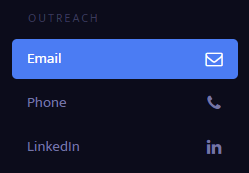 3. Click on "Settings"





4. Scroll down to the section "[Set Custom Tracking Domain/Subdomain](https://run.salesblink.io/setup-email-sender#custom_domain_section)".

5. Enter your domain or subdomain which you want to use for tracking outgoing emails and click on Save.




6. You will be required to set an A Record in your DNS provider.





7. Once you have set the A Record, click on Verify Record to make sure its set correctly.

You will see a success message once it is set successfully.