How to find emails from company domain?
SalesBlink lets you to find emails of people working in a company using the company domain.
Here is how you can do it:
1. Go to the SalesBlink dashboard

2. Under "Prospecting", click on "People".


3. A dropdown menu will appear. Click on "Domain Search".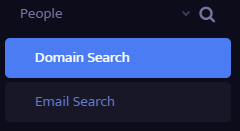 4. Enter the company domains you want to find emails for. After entering the company domains, hit "Search".

5. SalesBlink allows you to enter 1000 company domains at a time.




6. You will get the following details of the company employees:


Name
Email
Phone number
Social media profiles
Hit the "Download button". All the information will be downloaded in a CSV.