How to remove a prospect from a campaign?
You might want to remove a prospect from an ongoing or paused campaign,

Here is how you can do it:
1. Go to the SalesBlink dashboard

2. Click on "CRM" under "Closing"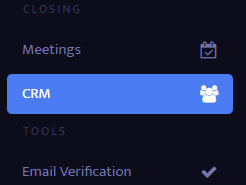 3. Select the appropriate campaign and press "Go"





4. You will see a list of prospects with their details. Click "Delete" on the prospect you want to remove.





The prospect will be deleted from the campaign.