How can I send emails with AWS SES?
SalesBlink lets you to send emails through an email service provider of your choice.
Here is how you can send emails with AWS SES:

1. Go to the SalesBlink Dashboard

2. Under "Outreach", click on "Email"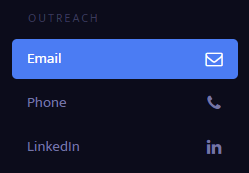 3. Click on "Settings"





4.In the email service, select "Other"



Before you continue, you need to get your AWS SES Credentials.

5. Enter the Sender Username, Sender Password, SMTP Host and SMTP port you received from AWS SES Website.

6. Enter IMAP host and port.
You need to get your IMAP credentials, this is used to track email replies, bounces etc.
AWS SES does not provide IMAP support, so you can add your GSuite, Outlook or some other email sender credentials here.
For Improved deliverability, keep the SMTP and IMAP email the same.
7. Click on "Save and use SMTP/IMAP Settings"

Now, all your emails will be sent from the AWS SES email account that you have connected.