Introduction to Meeting Scheduler
Hello there!
Meetings are a key part of every Sales Cycles, for most cases more meetings mean a great outreach campaign.
Hence, We have Included a Meeting Scheduling system right inside SalesBlink!
Why do we need a Meeting Scheduler?
Meetings are lifeline of any sales cycle, but finding the right time that fits you as well as your prospect can be a tedious process with a lot of back and forth.
A Meeting Scheduler helps you reduce the email chain of deciding the best time to connect on a call. (and discuss your sale!)
How does it work?
SalesBlink lets you create a custom meeting page like the one below, which shows the prospect your available timings, and they can easily select which one works the best for them!
And yes, this is completely customizable.

How can I create my Meeting Scheduler Link?
It takes less than 5 clicks to set up your Meeting Scheduler Link, You can connect your Google Calendar or Microsoft Outlook Calendar.
Click here to check our step by step guide.
Where can I see my scheduled meetings?
You can easily view your scheduled meetings for the month, week, or day.
Here is how you can see it:

Go to the SalesBlink's meetings page.

Here you will be able to see the scheduled meetings: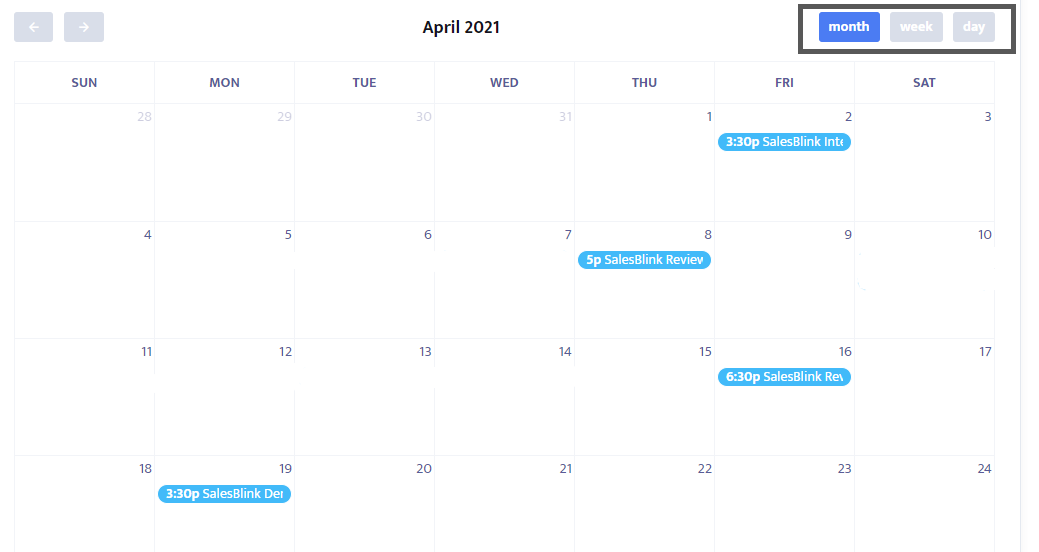 You can also check your meetings on your Google Calendar or Outlook Calendar.
How can I update my Meeting Scheduler Link Settings?
Here are some useful links to help you update your settings: